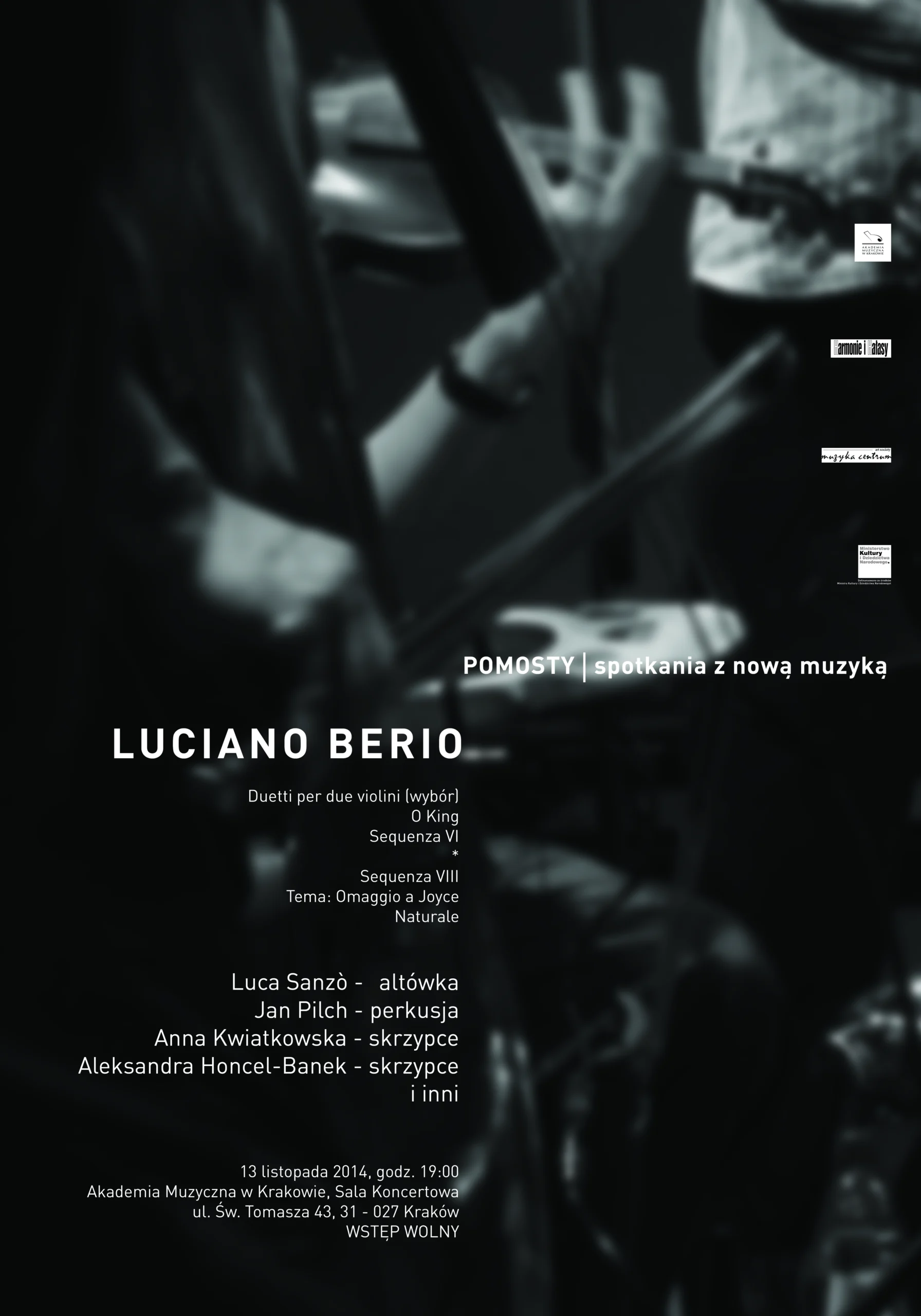 Bridges – Encounters with New Music
Luciano Berio – Monographic concert
Cracow, 13th November, 7 p.m.
Academy of Music Concert Hall, 43 św. Tomasza st.

Programme:
Duetti per due violini; O King; Sequenza VI; Sequenza VIII; Tema: Omaggio a Joyce; Naturale
Performers:
Soloists: Luca Sanzò viola; Anna Kwiatkowska violin; Jan Pilch percussion;Aleksandra Honcel-Banek (in Duetti) violin
Ensemble(O King) Anna Zawisza soprano; Renata Guzik flute; Piotr Lato clarinet; Michał Dziad piano; Aleksandra Honcel-Banek violin; Marcin Mączyński cello
Luciano Berio (1925–2003) was one of the most important figures in the music of the 20th century. He brought to the post-war avant-garde features considered typically Italian, such as melodic lines instrumental virtuosity, as well as elements of traditional musical cultures from many parts of the world, which sounded surprisingly modern in the new context. The program of the monographic concert will include captivating portraits of musical friends in Duetti per due violini (1979–83), O King – originally one of the movements of the famous Sinfonia (1968), Sequenza VI (1967) and VIII (1976) – two pieces from the virtuoso a cycle of fourteen compositions for solo instruments, Tema: Omaggio a Joyce from 1958 – one of the first masterpieces of electronic music, Naturale (1985–86) with a dialogue between instrumentalists and recorded voices of Sicilian singers. The soloists will be the Italian viola virtuoso Luca Sanzò, the violinist Anna Kwiatkowska and the drummer Jan Pilch, there will also be a band composed of well-known musicians from Kraków. The organizers of the concert are the Harmonies and Noises Music Foundation and the Muzyka Centrum Association.
Co-financed by the Ministry of Culture and National Heritage