About the Foundation
"Harmonies and Noises" Music Foundation was founded in 2012. The most important objectives are organisation of contemporary music workshops and concerts. Many of the Foundation's events are organised according to participatory formula: concert programmes include outstanding works of 20. and 21. centuries and new compositions as well as works for joint forces of professional musicians and young amateurs. These activities take place mainly in our concert/workshop series: "Dźwiękowisko" ("Sonic Playground") and "Warszawskie Dźwiękowisko" ("Warsaw Sonic Playground"). The Foundation cooperates with leading Polish composers and new music performers.
Our activities include new music concerts and education events. Workshops with young people, both playing instruments and with no music skills, introduce them to modern musical language. Professional performances of 20. and 21. century highlights and performances with non-professionals often complement each other as parts of the same event. Performances of outstanding contemporary compositions from international repertoire as well as of new Polish music take place at concerts organised by the Foundation in different places in Poland, including festivals.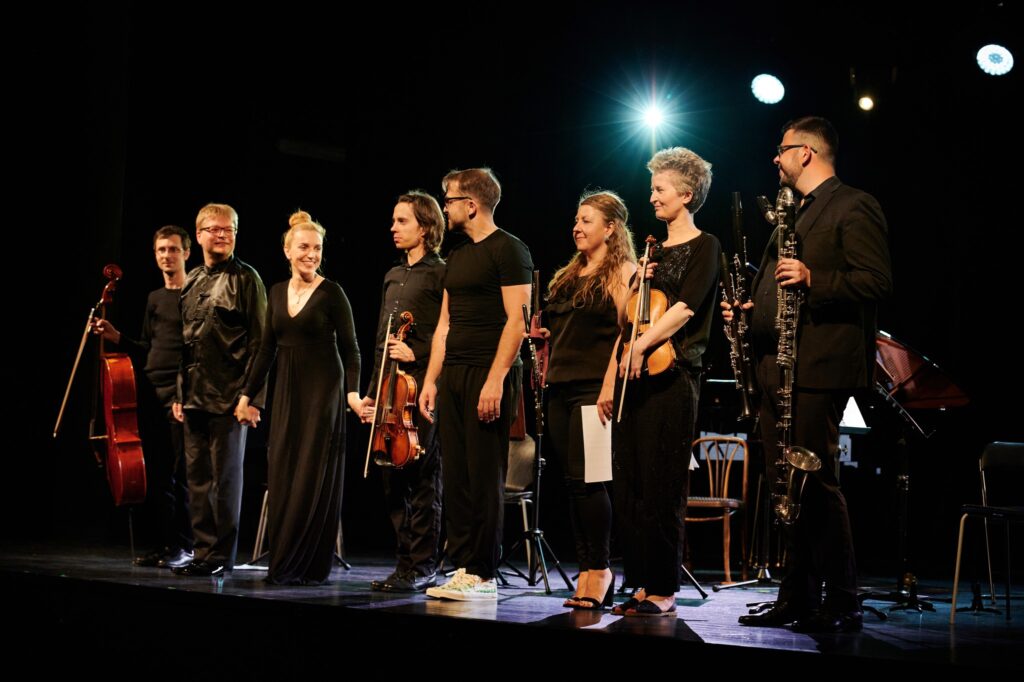 "Harmonies and Noises" Music Foundation projects since 2012
● "Dźwiękowisko" and "Warszawskie Dźwiękowisko" ("Sonic Playground" and "Warsaw Sonic Playground")
Workshops/concerts started in 2014 in cooperation with Instytut Muzyki i Tańca (Institute of Music and Dance, state-run cultural institution established in 2010 by the Ministry of Culture and National Heritage). The events include performances by orchestras, ensembles, chamber groups and soloists of works for joint professional and non-professional forces. New works of this kind, mostly commissioned with leading Polish composers, are presented at concerts along with performances of modern and older repertoire by estabilished musicians. Before concerts intensive preparatory workshops with young people take place, with professional musicians as workshop leaders. Stimulating creative actions and audience building as well as concert programmes attractive to music lovers are equally important aims of the "Dźwiękowisko" project. The events have taken place in Warsaw and Cracow as well as in smaller cities in Poland (e.g. Radom. Kielce, Łomża), the documentation (films and audio recordings) of most of them are available at http://www.dzwiekowisko.pl/pl/o-programie/historia
Composers who have written works for "Dźwiękowisko" are Lidia Zielińska, Krzysztof Knittel, Marek Chołoniewski, Sławomir Wojciechowski among other. Their compositions were presented at concerts along with works by Pierre Boulez, Olga Neuwirth, Philippe Hurel, Simon Steen-Andersen, Mauricio Kagel and others.
● "Harmonies and Noises" series:
Workshops initiated under this name started in 2012. Creative activities of various kind (music, poetry, painting, making films, pantomime etc.) introduce the participants to music performed at contemporary music concerts. Workshop leaders are not only musicians but actors, film directors, painters, dancers as well. Most of the activities have taken place before events organised by the Foundation with music by Mauricio Kagel, Luciano Berio, Hanns Eisler, Arnold Schönberg, Alban Berg, Anton Webern, Georg Friedrich Haas, Olga Neuwirth and others.
● Performances of contemporary works for young musicians:
For many years now we have been organising performances of modern works by young people learning to play instruments (beginners or more advanced, with exception of students of music academies). Compositions played by school orchestras, small ensembles or solo works are those written by well-known composers, like "Rondeau" by Georg Friedrich Haas or have been commissioned by our Foundation with Polish composers of young and middle generation: Sławomir Kupczak, Przemysław Zych, Artur Kroschel. Some of them were recorded for National Audiovisual Institute: films about violin duos written for young soloists playing together with a violinist specialised in modern repertoire (Anna Kwiatkowska), in addition to recordings of the works, include explanations, possibility of following scores and of practising alone with the other violin part recorded.
http://www.muzykotekaszkolna.pl/multimedia/utwory/sławomir-kupczak-trzy-tańce-na-skrzypce-z-elektroniką-mistrz-i-uczeń-1/
http://www.muzykotekaszkolna.pl/multimedia/utwory/kroschel-podcienie/
http://www.muzykotekaszkolna.pl/multimedia/utwory/przemyslaw-zych-kajocy/
Our work with a school orchestra in Radom is documented on the film about preparation and performance of "Wiatrofale" ("Windwaves") by Marek Chołoniewski
http://muzykotekaszkolna.pl/artykuly/wiatrofale-dokument/
● Other concerts:
Many events organised by our Foundation have presented music by outstanding composers of 20. and 21. century, like Luciano Berio, Mauricio Kagel, or were devoted to specific subjects, like concerts and seminar in Cracow in 2013 about microtonal music by Georg Friedrich Haas and Paweł Mykietyn. Works by Barbara Buczek (1940-1993), the pioneer of "complexity" orientation in Poland, were performed at two concerts the "Harmonies and Noises" organised together with the Academy of Music in Cracow. New music from Poland takes special place in our concert programmes, with works commissioned by us with most interesting Polish conmposers of young and middle generation: Artur Zagajewski, Krzysztof Wołek, Agnieszka Stulgińska and others.