SUITE OF LOVE SONGS
10.12.2019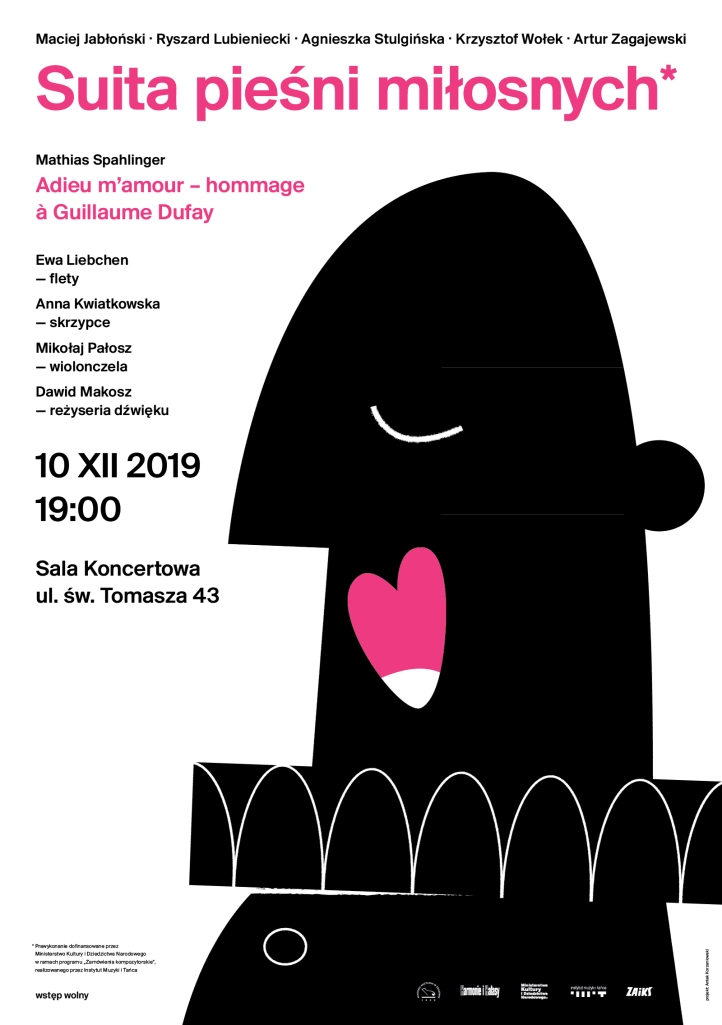 Cracow  10.12.2019, Music Academy
Poznań  20.10.2020, Sala Koncertowa im. Tadeusza Szeligowskiego; 
Gdańsk  25.10.2020, Academy of Fine Arts Patio
PROGRAM:
Mathias Spahlinger (b. 1944) – Adieu m'amour – hommage à Guillaume Dufay (1982-1983)
    SUITE OF LOVE SONGS (2019, commission of Music Foundation "Harmonies and noises")
Maciej Jabłoński (1974) – Planh
Agnieszka Stulgińska (1978) – Mon joyeux souvenir
Krzysztof Wołek (1976) – Missing Voices
Ryszard Lubieniecki (1992) – After Baude Cordier (Belle, bonne, sage tape cover)
Artur Zagajewski (1978) – triplum (2019)
PERFORMRS:
Ewa Liebchen - flutes
Anna Kwiatkowska - violin
Mikołaj Pałosz - cello

The Suite of Love Songs is a work consisting of five parts, each of which is the work of a different composer. Maciej Jabłoński, Ryszard Lubieniecki, Agnieszka Stulgińska, Krzysztof Wołek and Artur Zagajewski are artists with various and often different interests, artistic personalities, and aesthetic preferences. However, the work is intended to be a whole, the coherence of which results from limiting the scope of possible inspirations to pre-Baroque Francophone works dealing through the text with the joys and sufferings of love. The program of the concert also includes the composition Adieu m'amour - hommage à Guillaume Dufay, based on similar assumptions of the German composer Mathias Spahlinger.